Sliders, Casement, Double Hung & Picture Windows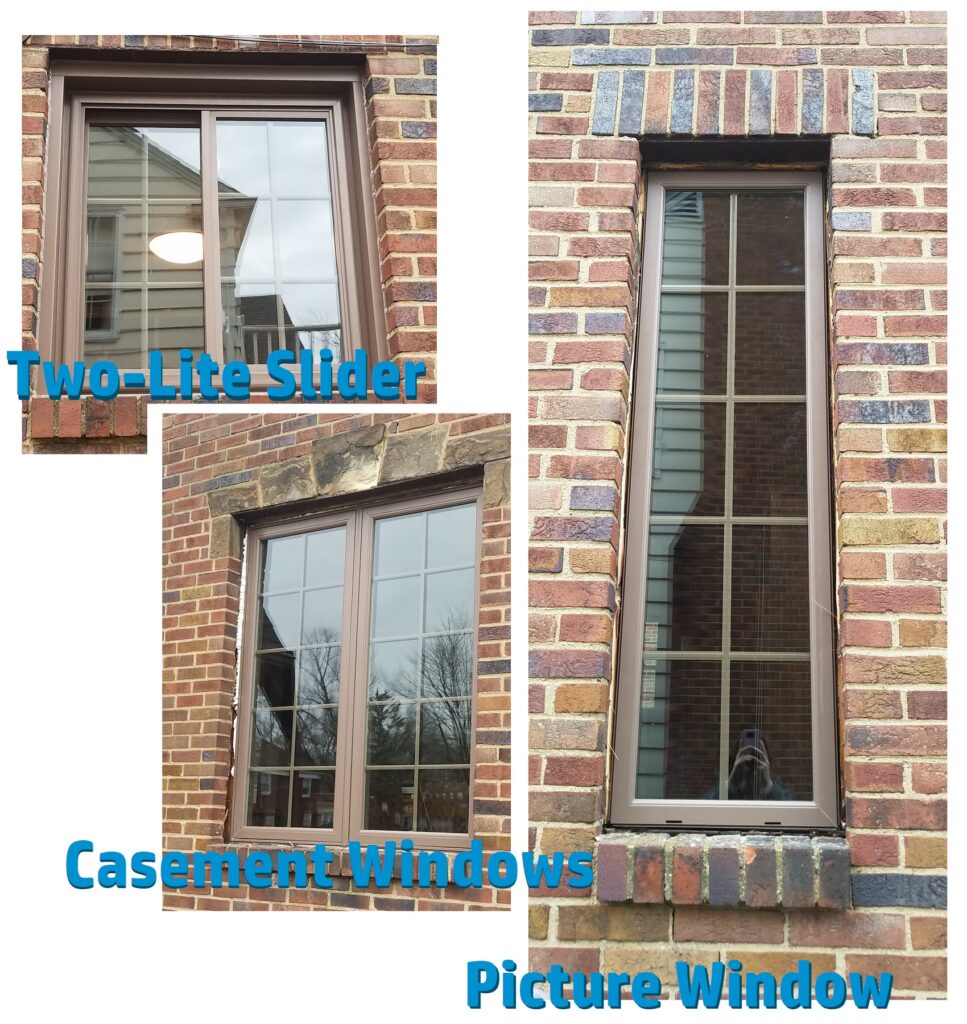 Replacement Windows Cleveland
Integrity Windows of Lakewood finished this replacement windows job early February as Cary and Tim manned the booth at the I-X Great Big Home & Garden Show. The house, a beautiful brick colonial, built in the 1930s in Lakewood, just next to the Cleveland border, had over 20 windows to replace. This home, because of the architectural style of Lakewood homes in the 1930s, had a variety of window types and sizes.
It's always a personal choice whether to buy white vinyl replacement windows, brown vinyl, tan vinyl, one of the eleven painted vinyl windows or wooden windows. Many home owners choose the white vinyl replacement windows but this customer felt the brown vinyl windows matched the original architectural style better. Finding the right house window replacement is a process, but it is one needed to make you feel proud of your home. Click on the picture of our customers house next to the neighbors identical home to see an interesting comparison if this is a choice you're faced with.
Pella Wood Windows Make A Great Steel Window Replacement
Another option that would have matched the original style would have been our Pella wooden windows. Many of our customers in historic homes are actually required to use wooden windows when they replace windows in historic neighborhoods because the thicker frame of an updated vinyl replacement window can detract from the original architecture (Replacement Wood Windows in Cleveland – Ohio City , Custom Wood Windows for Historic Homes). Our Pella wood windows are aluminum clad on the outside to eliminate wood-rot while providing the natural wooden interior. Both wooden windows and steel windows have more window and less frame, allowing for maximum natural light and architectural splendor. Vinyl is substantially less expensive than a wooden window and usually much easier to clean as they tilt in to clean both interior and exterior.
Replacement Window Varieties
This Lakewood home allows Integrity Windows to showcase the breadth of variety in replacement windows we provide throughout Cleveland. This house contains over 20 windows from your typical double hung replacement window, to casement windows, sliders and picture windows. Integrity Windows offers all of these types of windows and more. Each window is customized to your measurements in your home (which is why buy 1, get 1 free window sales are an insult to intelligence).
Costs of New Windows in Cleveland
A window replacement job like this can be a substantial investment, with over 20 windows in such a wide variety of window types, which is why homes with new windows sell for more money. Of course the cost of keeping the old steel windows included higher energy bills with the drafty, single-pained steel windows, and the cost of compromised comfort and security with rusted-out handles and locks after years of rust, wear and tear leaving them nearly impossible to open, close and lock.  Luckily Integrity Windows partners with Dollar Bank to help home owners finance replacement window projects that may be long over-due but not in the budget.
Contact Integrity Windows in Lakewood to discuss your window options, financing, variety of windows and how soon we can reduce your energy bills, improve your comfort and make your home look new again with new replacement windows, patio and entry doors from Integrity Windows. Get a free quote.
Lakewood Replacement Windows
Lakewood Replacement Windows

This beautiful brick Lakewood home, built in 1936, invested in new replacement windows with Integrity Windows of Lakewood.

Replacement Windows Adds Value & Curb Appeal

These home owners wanted vinyl replacement windows that would match the original steel windows with a low profile, maximum natural light and interior grilles to match the 1936 original look. In this picture you can easily compare the darker, thinner vinyl replacement windows to the neighbors house with thicker, white vinyl replacement windows.

Professional Window Installation

Our team of professional window installers were finishing up their installation job in this picture. With the last window going in, the finishing touches were next. Our team of professional installers get a big job done like this in one day, minimizing the inconvenience to our customers.

Variety of Replacement Windows

The architecture of this 1936 Lakewood colonial included a variety of window shapes and sizes. Integrity Windows custom measures, orders and installs all types of windows. This home\'s replacement windows included sliders (windows that slide open), casement windows (windows that crank open), double hung windows (typical windows that open from the bottom) and picture windows (windows that don\'t open).

Lakewood Replacement Windows

We thought you would like to see the original windows we replaced. Imagine the draftiness from these original, single pane, steel framed, 1936 windows. The interior was painted white with a brown exterior. The new vinyl replacement windows closely match the original windows with energy efficient and easy-to-clean features including interior grilles for that old-fashioned look.
Replacement Windows Cleveland: New Windows to Match Old