If you're looking for replacement windows in Cleveland, you may enjoy our four-part series outlined in How to Avoid Window Sales Tricks and Scams. In this post we highlight the most common strategy of all – so common that some homeowners wait for this particular scam to be advertised before they get a quote on replacement windows. It's called:
The Bait & Switch $199 Replacement Window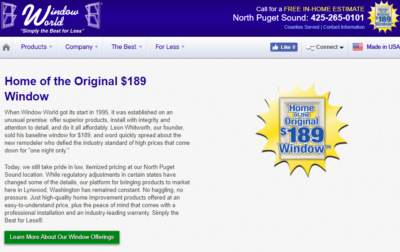 Determining how much a replacement window will cost depends on a lot of factors, choices, etc… However, $199 is not realistic. Home Advisor puts the range from $300 to $1000 per window with pricing broken-down by single-hung, double-hung, sliding and casement here:"How Much Do Replacement Windows Cost?".  While Angie's List has the average cost for a vinyl replacement window at $450-$600 and $800-$1,000 for a wood replacement window on their page "How Much Does It Cost to Replace Windows?"  So any advertisement for $199 per new replacement windows is either a bait and switch advertisement, where they advertise a window that isn't available, or it's a made-up base price that doesn't include removal of the existing window, disposal of the existing window, installation of the new window, any energy efficient features, or any necessary ad-ons like hardware, locks, latches, etc.
"The biggest bait and switch comes in advertising," says Justin Howe, owner of The Window Experts in San Antonio. "When someone advertises a window for $199, be sure to read the fine print. It's probably a size that no one has and doesn't come with the energy efficiency options. By the time they get done with the sales pitch, the true price is about $450 to $500 a window."
Spotting this one is self-explanatory. These advertisements can be found on our local radio stations, in the Cleveland Plain Dealer, the mailbox, Cleveland area billboards, Cleveland sporting event signage and more.
Avoiding this one is a matter of approaching the company with caution. We can only imagine what other sales tactics a company using this false introductory price will implement.
No Pressure Window Estimate
At Integrity Windows we don't play that game. We're a locally owned and operated window company with a showroom in Lakewood. We keep our overhead low by not blasting the airwaves and the billboards with advertisements so our prices are transparent, competitive and without the need to negotiate.   You can come to the Lakewood showroom and get an estimate, or we'll happily send Tim Folger or Ron Anders to your home.  We don't jack-up the price of our windows so that we can sell them 50% off and make you feel like you got a deal. We don't pressure you – ever.  And we don't take more than 20 minutes to learn about what you want, tell you what we would prescribe and calculate the total cost of windows and installation. We'll hang-out and chat a little longer if you want some company, or we'll email you a quote if you would rather skip the pleasantries. Your choice. Call now and find out what it's like to get an estimate from a window company that doesn't play games – we're confident you'll choose to buy your windows with Integrity.
Window Sales Tactic: Bait and Switch $199 Replacement Window