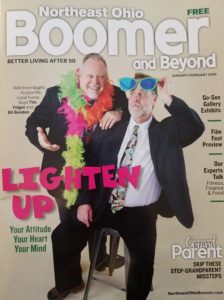 Vice President of Sales at Integrity Windows by day, local Cleveland Comedian by night, our very own Tim Folger graces the cover of Northeast Ohio Boomer and Beyond magazine's Jan/Feb 2019 issue.
When Tim sent us a link to the "Lighten Up"-themed current Northeast Ohio Boomer and Beyond, we were pretty impressed that our VP of Sales was on the cover of  a free magazine you can't help but pass at every Giant Eagle, Marc's and Drug Mart around Cleveland. seemed like a big deal. So when we asked if he would autograph it, he replied "Of course. After all, an autograph doubles the value of a free magazine."
Quick with a joke, and impossible to insult, Tim Folger has been helping people throughout Cleveland to "find the funny in things" while performing occasionally at comedy clubs in the area.
How Does Comedy Relate to Window Sales?
When you get a free estimate from Integrity Windows on replacement windows, doors or siding, you may become material for Tim's next comedy act because he's the one that comes to your house to go over options and prepare your quote. For other Cleveland window companies this is the high-pressure sales pitch opportunity but with Tim being our VP of Sales, it's an opportunity for him to practice his one-liners and make sure you get all your questions answered. Tim Folger does not do high-pressure. Tim Folger does not do bait and switch. Tim Folger does not even try to overwhelm you with amazing, high-tech, fancy window options. He cuts through all the smoke and mirrors and shady window sales tactics with the primary purpose of making sure you don't fall for it with another Cleveland window company. At Integrity Windows you'll get the best price the first time and every time because there's no tricks. Just Tim Folger, funny guy with the "lighten-up" approach to life, and we love it!
Tim came to the Integrity Window Company after 15 years of management experience and has been in the home improvement industry since the late 90's. He continues to enjoy occasional performances at local comedy clubs around Cleveland, as he has for more than 20 years. Read more about Tim on his Integrity Windows bio page: Tim Folger. Customer-Focused Sales Manager.
Integrity Windows Videos Starring Tim Folger
Welcome to the Lakewood Showroom
Do you find shopping for replacement windows, entry doors, storm doors and vinyl siding a daunting and intimidating process? In this video Tim Folger gives you a sneak peak into the showroom and operations of Integrity Windows in Lakewood - nothing intimidating about these guys!

No Shenanigans Tim Folger
Have you ever thought windows had anything in common with brown bananas or day-old bread? Neither have we. That's why at Integrity Windows we don't pretend our windows are "on sale." Windows are made to order and aren't priced like produce and bakery items unless someone is trying to trick you into thinking you're getting a deal.
No Camping Out
If you've had to endure shady window sales tactics before, you may be familiar with the window sales guy that won't leave until you sign the agreement. Not Tim. Not Integrity Windows. It is very infrequent that we ever leave a free estimate call with a signed purchase agreement. We don't expect one. Tim helps to answer questions, prepares an estimate, shakes your hand, thanks you for your hospitality and we'll get the installation date set when you call us to schedule the purchase of your replacement windows.

Tim Folger: Uncut
We can't really call these "bloopers" because that would indicate our other videos are scripted to perfection. Tim doesn't do scripts. As a guy that enjoys doing stand-up comedy in his spare time around the Cleveland area, he just wings it. So we shoot, he wings and we hope to cut something together that will make sense. Let's just say these clips haven't made it to final production yet.

Tim Folger – Cleveland Comedian and VP of Sales for Integrity Windows