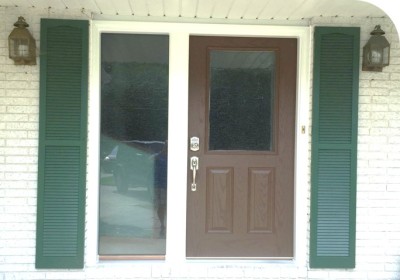 On this entry door replacement and installation in Rocky River, Ohio, the home owner chose the CL61, a door made by Ohio-based door manufacturer, Polaris.
The CL 61, half view, is one of the most popular door styles on the market today because the half glass allows an abundance of light to filter into any room.
There are several different grid types and patterns available in this style (which can be seen in our Door Book or explained during our initial consultation). The wood-grain fiberglass door is stained a beautiful dark oak color that shows off the natural grain of the door.
The door we installed in Rocky River, and shown here, features a "Glue Chip" glass – a feature that provides privacy while still allowing light in. The door's side lite, or the glass that you see to the left of the door pictured on this page, is a custom size made to the exact specifications of the opening, it also features the " Glue Chip" glass.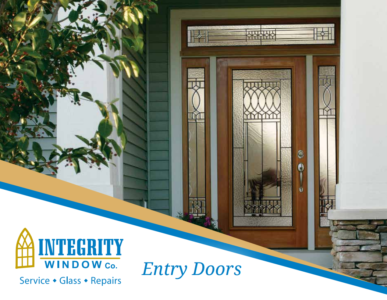 The handle set is the Camelot model from Schlage in a satin nickel finish featuring a keypad deadbolt, this allows quick secure access to the house without the need to carry a key.
At Integrity Window and Door Company we understand that there are thousands of options when choosing the right entry door to your home – from door style, grids, glass, side lites and material to hardware, security and more.  Let our trained window and door specialists help walk you through the options by calling our Lakewood Office, or filling out the contact us form, to schedule a free estimate.
Entry Door with Custom Side Lite in Rocky River, Ohio