When you think of Integrity Windows and Doors of Lakewood you likely think of the team you see at the Home + Garden Show or at LightUp Lakewood or some other event we like to support and use to meet the local 
community and hopefully earn their business when they're looking to replace windows, doors and siding in their home.  You will very rarely see anything to make you think of us when you think of commercial window replacement or commercial doors, but we actually have a handful or two in our portfolio.  Just his past year we had a job in Lakewood where we added a new glass commercial door to a pet store business. See Commercial Door in Lakewood post.  We're also working on another Lakewood project to replace all the windows and glass patio/balcony doors in a Lakewood apartment building - Commercial Replacement Windows: Lakewood Apartment Building.  You'll also see some of our commercial jobs on our commercial window projects page that highlights a replacement windows job we did in Bedford, Ohio for an office building, including commercial picture windows and commercial awning windows, with custom bronze tint.  And we also have pictures from a steel casement commercial window replacement job at a manufacturing facility.
So when this Rocky River church contacted us to replace an old, barely functioning, wooden entry door and some very old and drafty windows, it was the perfect job for us. This Rocky River church needed more security for their entrance while being able to see what was going on inside and to save money and increase comfort with the energy efficiency a professionally installed, high-quality glass entry door can guarantee.  
When they spoke to the team at Integrity Windows and Doors we knew their best option would be this full glass, highly secure, with all the best security features door for the entrance to this area of the church.
Commercial Replacement Windows in Rocky River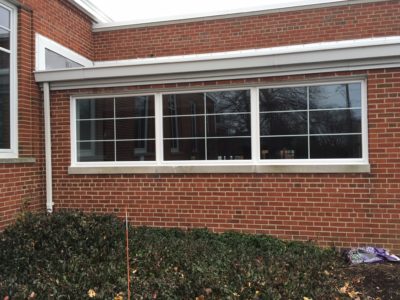 A typical home owner looks at their heating or air conditioning bill and is eager to replace their windows when they can tell their bill is 30 - 50% higher and they're still cold in the winter or hot in the summer, but in a commercial building that expense is much higher. It is substantially more difficult to keep a commercial building at a comfortable temperature. They have higher ceilings and more open spaces with less enclosed areas that can contain heat.  And especially in a church - the heating and cooling bill can be a large portion of their operating expenses.  So when this Rocky River church decided to invest in some new windows, they're very aware that the cost of those windows will likely be recouped in no time at all in the form of lower energy bills.
If you help to manage the expenses in your commercial building, contact Integrity Windows and Doors for a free estimate and start saving money on your energy bills today with affordable, high quality windows and doors that are professionally installed on every job.
Windows & Doors for Rocky River Church