Get More Use Out of Your 3 Season Room with New Sliding Windows & Patio Door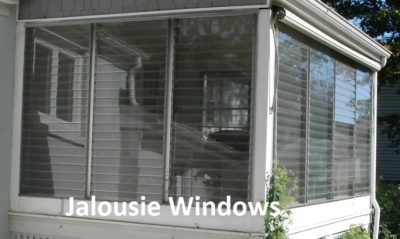 We didn't get "before" pictures on this recent Bay Village job, but imagine an extremely dated three-season room with old jalousie windows. You know, the ones with about twenty small glass panes that look more like window blinds than actual windows - not the best for making the most use out of a three season room in the Cleveland area, not to mention nearly impossible to clean and maintain!
This Bay Village family likes to entertain and needed more room for family, friends and guests to spread out and socialize.  Although they had a three season room, with the old jalousie windows, the room wasn't very inviting. They had tried to maintain, clean and grease the windows so they would look more appealing and function better but there was no use.  The bugs weren't kept at bay unless the panes were closed, which eliminated air circulation and left the area feeling stuffy and uninviting.
Replaced Jalousie Windows with New Vinyl Replacement Windows
Integrity Windows started by gutting out the old three season room, removing the jalousie windows and putting in studs and walls for a more functional extension of living space and a solid wall structure for the new vinyl replacement windows.  This Bay Village family wanted as much light and air flow as possible in this room that leads out to a nice sized patio so that company sitting in the three season room would feel like the whole space - three season room and patio, was one large area to socialize and enjoy the fresh air. With the new vinyl two lite sliding windows the screens eliminate the bug issue, and opens the room up more than the old jalousie windows had done, all while being much easier to clean and maintain.
Integrity Windows also installed a new sliding patio door which added to the natural light, air flow and ease of access between the three season room, the kitchen and the beautiful patio.  Now this former three season room, which had basically been a zero-season room, has been transformed in to an extension of living space, almost acting as a four season room!  Without insulation in the exterior wall or heating vents, on a brutal Cleveland winter day, maybe it won't be the most comfortable room - but with the added energy efficiency of the new vinyl replacement windows and patio door, this new room will certainly get use year round! In fact after this, for extra effect, some of the most beautiful window blinds were considered to frame the new windows. There really are many ways you can compliment your windows with a set of shutters or blinds.
If you have a three season room, sun room, or enclosed porch area you would like to get more use out of, consider a free, no-pressure, estimate from Integrity Windows for energy efficient, high quality windows and doors that will allow you to turn that area into more functional living space.  Call our Lakewood, Ohio office at 216-220-5800 or fill out our Free Estimate form.
New Vinyl Replacement Windows & Patio Door in Bay Village