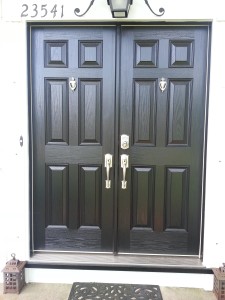 Originally this Westlake, Ohio home had a nice, standard, single entry door with two side lites.  Although the door didn't look dated, the extra light coming in around the door was unnecessary because the house had ample light coming in from the east-facing and north-facing windows at almost all times of the day.  In addition, this Westlake home owner was frequently moving in and out large items, artwork, furniture, and other equipment that was difficult to get through the front door and near impossible to get through the garage.
Once we heard the homeowner's dilemma and listened to what the home owner was hoping to achieve with a new entry door set-up, we presented the limitless variety of solutions.  In the end, the homeowner was looking to change the style of the entire entry way and decided to go with the ohio-based door manufacturer, Polaris, model CL60 in a double door format.
Double Door Provides Wider Opening
This double door has a textured fiberglass skin that is painted in black. The double doors have an attached astragal that enabling them to open up to almost a full 6 feet width to allow greater and easier access to the house. Each slab is equipped with a door knocker and wide angle peep site in satin nickel finish. The handleset is the camelot model from Schlage in a satin nickel finish featuring a keypad deadbolt, this allows quick secure access to the house without the need to carry a key.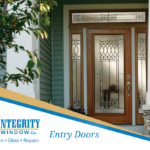 Removing the previous side lites to allow for a larger door and wider access while limiting light exposure in the front of the house isn't the right choice for all situations but for these Westlake homeowners they couldn't have been happier with what Integrity Window and Door company recommended for their situation!
Do you have a dilemma we can help fix? Have a small budget but want a big door?  Call us to set up a free consultation and our window, siding and door experts will find the right solution for your needs.
Double French Entry Door, Westlake, Ohio