Not too many Cleveland area window companies, and certainly not the big box stores, will tell you that September is the best time to do your replacement window shopping but here's why we say September is the month to start shopping for replacement windows.
Beat the Fall Rush. Buy Your Windows in September.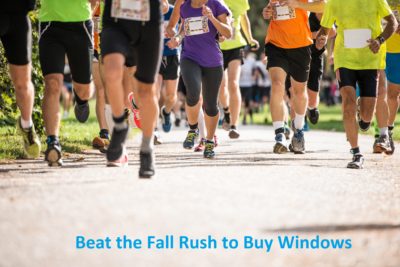 When the weather gets colder, and we're in Cleveland so it's no surprise that by October we're testing out the furnace, we all start thinking about bundling up for the winter. At Integrity Windows our phone blows-up at the first sign of frost, or visible breath on a chilly fall morning, and the team gets booked-up for four to six weeks out by October. We could hire some part-time, inexperienced window installers just for the fall, but unlike some lower quality window companies, we refuse to use a crew of untrained window installers.
Our expert window installers have been professionally trained to install your new replacement windows the right way – for maximum energy efficiency, durability and ultimate curb appeal. A replacement window installed by an untrained professional can not only look horrible after the installer tries covering up their lack of expertise with shims, caulk and paint, but it can end up using MORE energy rather than being energy efficient.  So beat the fall rush by calling us in September, so we can place your replacement windows order with the manufacturer, and get your new energy-efficient windows installed before the rush, and before the chilly winter months.
Winter Window Installations are a lot Less Fun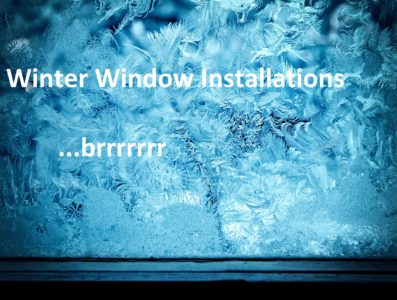 No one wants their new replacement windows installed in the dead of winter, which is why there is a rush in the fall. We certainly do winter window installations all season, but it isn't usually the homeowner's first choice. If there's an emergency – broken window from vandalism or an accident, a lot of times the homeowner doesn't want to deal with with a boarded-up window for the whole season, so we schedule the installation between blizzards and below freezing weather and make a concerted effort to minimize the time the home is directly exposed to the freezing cold air and the heat is blowing directly out into the cold.
The biggest disadvantage to waiting until the winter for new replacement windows is that in the winter months, December through February, we're more likely to have to reschedule because of a winter blizzard or below freezing weather.  So if you're reading this post in the middle of winter, YES, we are still installing new replacement windows all year round, but prepare for some scheduling moves as we juggle installations between snow storms, blizzards and below freezing temperatures.
No Pressure, Free, 20 Minute, Window Estimate
So beat the fall rush and avoid a chilly winter window installation by getting your free, no pressure, replacement window estimate this month. Call our Lakewood, OH showroom at (216)221-5800 or fill out our free estimate form and we look forward to getting your new replacement windows installed before the first frost hits the ground.
Learn more about how to avoid tricks from other window companies in our post:
Beat the Replacement Window Rush. Call Before Fall.