The "Window Guy" in Northeast Ohio Golf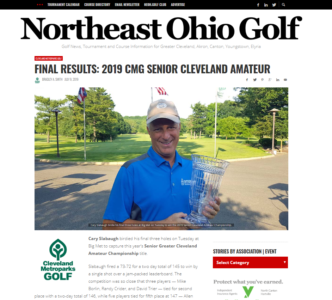 Cary Slabaugh, founder of Integrity Windows, took this year's Senior Greater Cleveland Amateur Championship title.
According to the Northeast Ohio Golf publication "Slabaugh fired a 73-72 for a two day total of 145 to win by a single shot over a jam-packed leaderboard."  Slabaugh then birdied his final three holes to win his first Senior Greater Cleveland Amateur Championship.
As a proud resident of Lakewood, Ohio and a small business owner in Lakewood, Cary is likely to be spotted either at a window replacement job, handling most of the commercial window and commercial door clients, or on a local golf course near you.
Cary started in the window and home improvement industry almost twenty years ago and has been running Integrity Windows since 2004. As a life long Clevelander, graduate of St. Edwards High School and BGSU (Bowling Green State University), he has been an advocate of small businesses in the Cleveland area for decades. He is happy to live in the beautiful city of Lakewood with his wife, two daughters, mother-in-law and dog, "Peachie".  When he's not enjoying his family or working with the valued customers and team at Integrity Windows, you are sure to find Cary on the golf course perfecting his drive.
Integrity Window's Cary Slabaugh Wins 2019 CMG Senior Cleveland Amateur