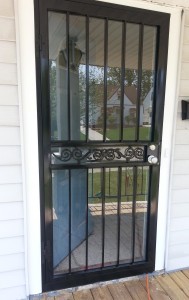 At Integrity Window, Door & Siding Company in Lakewood, Ohio we help Cleveland area homeowners decide on some of the most important purchases that effect not only the exterior look, ventilation, light exposure and functionality of their home but also the security of their home.  Although we don't sell, install or get involved with security systems, having secure windows and doors can keep criminals with bad intentions from breaking in to Cleveland area homes. Some reports even suggest that by having updated security doors and secure windows burglars are more likely to eliminate your home as a target and move on to a neighbor's home that is less secure.
For this reason, a popular request we get at the Integrity Window, Door & Siding company is for a high quality, affordable, security door. The security door is installed in front of the existing entry door much in the same way a storm door is installed – making it easy for residents and visitors to come and go, letting in ample light to the entryway, but providing enhanced security features that will make a home harder to break into.
Security Door Features: Steel Frame, Tempered Glass, Etc.
The security screen door featured in this page was installed at the home of a Maple Heights, Ohio customer and is called the B10-Intruder. This door features a 16 gauge steel frame, tempered safety glass, non-removable 7" steel hinges and a fully weather-stripped frame. The security doors come in many stylish designs that not only provide heightened security but also improve the overall look of the entry way.
If you are considering buying a high-quality security door to provide that extra layer of protection for your family than call our Lakewood Office at 216-280-5800 or fill out our free estimate form and let us know what features are most important to you.  At the Integrity Window and Door Company we travel throughout the Greater Cleveland area – from Lorain County to Lake County and obviously spend much of our time working in Cuyahoga County.
Security Door in Maple Heights, Ohio